November 8, 2022
Elmbridge Eagles Visit Downing Street
Rugby League and Elmbridge Eagles were welcomed to Downing Street today to celebrate the Rugby League World Cup, 2021
at an event hosted by Michelle Donelan, Secretary of State for Digital, Culture, Media and Sport.
The event was attended by dignitaries and former players from across the world of Rugby League who not only had the opportunity to meet and discuss all matters Rugby League, but were also treated to a fine display of training drills by children from Elmbridge Eagles Primary Age and Junior Players Group.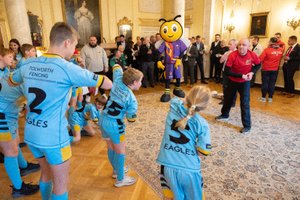 Elmbridge Eagles Primaries warm up at Downing Street

The heady nature of the surroundings didn't dull the kids' enthusiasm as they showed off their skills then got to meet a variety of government ministers and officials from within the game as well as cross code Rugby League legend Jason Robinson. We are told Jason was suitably impressed with their skills and shared his top tips with several of the players.
"I'm very proud of our kids and the display they put on today," Kevin Rudd, head coach of Elmbridge Eagles said. "They're a credit to the Elmbridge Eagles and getting to visit Downing Street is a great reward for their enthusiasm and hard work they've put in over the season. Visiting Downing Street will be something they will remember and tell their own kids and grand kids about. I'm delighted that Elmbridge Eagles was able to give them this opportunity".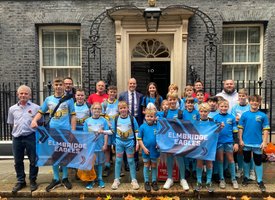 Elmbridge Eagles fly the flag at Downing Street
The Elmbridge Eagles is a Rugby League club based at the Old Cranleighan Sports club in Thames Ditton. Whatever your age, gender or experience of Rugby League, we are committed to making your experience of Rugby League fun and sociable. If you're interested in finding out more, e-mail us at admin@elmbridgerl.com and we'll be happy to answer any questions you may have about the Elmbridge Eagles, Rugby League and our teams and training sessions.